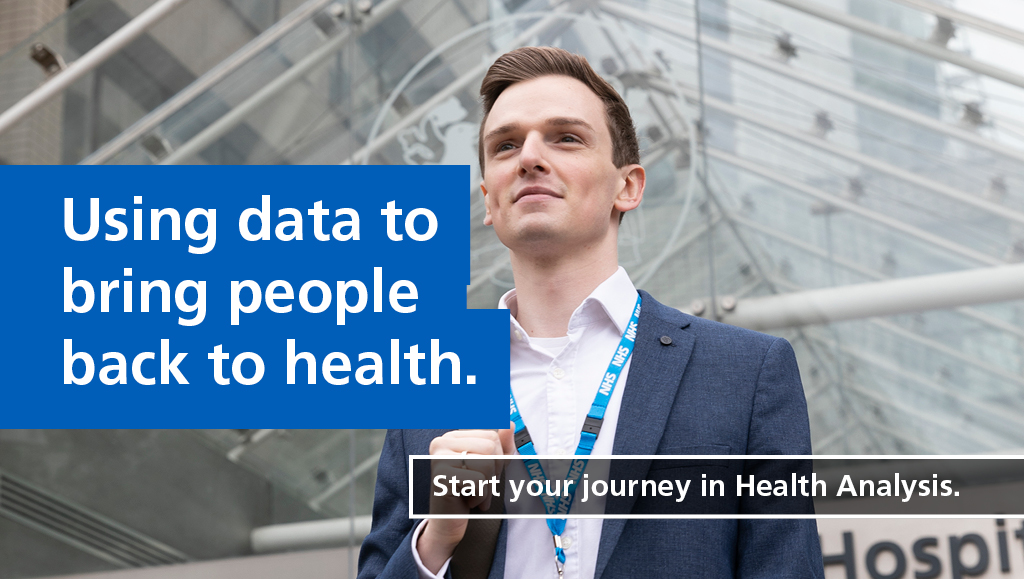 "Health Analysis is so important to understand how organisations function at an operational and strategic level, this ensures the best performance and therefore the best patient care. By using qualitative and quantitative data we can make sure that key clinical targets are met. That ensures that the care we provide to patients is effective as it can be."
Alice, Health Analysis
Start your journey in Health Analysis
Data is integral to decision making in the NHS. Accurate data is essential to inform policies and design services to meet patient need. As a Health Analysis trainee, you will use mathematical and statistical approaches and work with large and complex data sets. Trainees identify opportunities to improve patient experience, develop tools to enable effective long-term planning and crucially, evaluate success and identify areas for improvement.
On placement, you could be modelling future levels of hospital activity, developing tools to analyse and improve organisational performance or evaluating the success of a new process to continue the improvement of patient care.
Trainee insight
Alice shares her experience as a Health Analysis trainee.
Qualifications
Trainees work towards a Postgraduate Diploma in Health Analytics, delivered by University College London or the University of Manchester. Previous modules have included: Health Data Analysis Principles, Statistical Methods for Health Data Analytics, Machine Learning in Health Care, Patient Safety and Clinical Risk, and Key Principles of Health Economics.
All trainees on the scheme study for a Postgraduate Certificate in Healthcare Leadership during their first year. In addition to academic qualifications, trainees participate in experiential and action learning, to develop their leadership skills more broadly.
Teaching is delivered during working hours, but trainees can expect to complete coursework and revision in their own time.
Career path
Most trainees stay within NHS England, but some move to a role in an NHS Trust in an operational capacity to be closer to the frontline. Trainees move into a wide range of roles on graduation, including: Data & Information Analyst, Business Intelligence, Clinical Coding Analyst, Performance Analyst and Commercial Development Analyst.
Entry
2:2 and above, numerate subject or degree with at least 30% numerate content
Location
London or North East & Yorkshire
Salary
£27,701 + benefits
We're looking for leadership potential. To help you achieve yours, every trainee is supported by a:
• Programme manager to support your progress through the scheme
• Support manager to provide pastoral support for the duration of the scheme
• Placement manager on each placement
• Buddy – usually a trainee from the previous cohort
• Local NHS Leadership and Lifelong Learning network – host local events and manage alumni networks
• Trainee Experience Support Group – advocate for trainees within the NHS
Health Analysis FAQs
What do you mean by 'numerate degree'? Can you give examples?

As well as the minimum eligibility requirements, you will also need to note the following:

Candidates should have a minimum 2:2 undergraduate degree in a numerate subject, or one with at least 30% numerate content.

Examples of numerate degrees are Statistics, Mathematics, Operational Research, Econometrics, Physics, Engineering, Accounting, Biology, Economics, Business, Chemistry, Finance, Geography, IT, Management Science, Psychology, Sociology, Social Sciences and Systems Science.
Is there an opportunity to work in a Trust or organisation outside NHS England?

As part of the programme, all Health Analysis trainees undertake a 6-month NHS placement which provides operational experience.