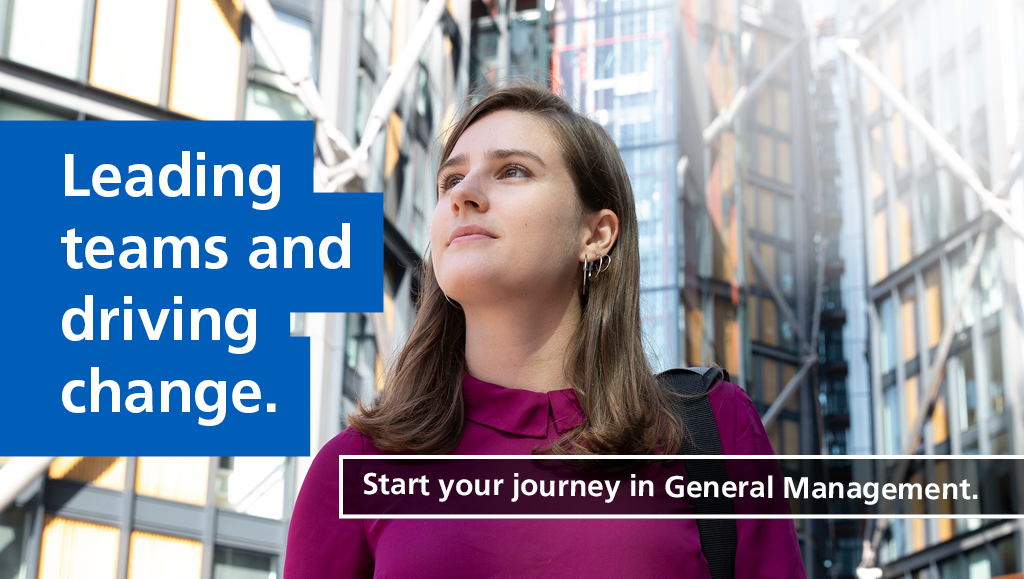 "People think work in the NHS is all clinical but that's really not the case. The General Management specialism allows me to work closely with staff and have a positive impact on patients. I wanted to be as involved as possible in a non-clinical position and this was the best way to do that."
Mia, General Management
Start your journey in General Management
Join General Management and learn how to lead teams to perform at their best. Our trainees are supported to add value and take responsibility for teams from the start of their journey as managers in the NHS. You'll develop management and interpersonal skills through working with colleagues, exposing you to different management styles – as well as academic and experiential study modules. You'll enhance team performance and improve service delivery by setting and meeting key performance indicators.
Recent placements include operational manager of a clinical service area, project manager in a Clinical Commissioning Group, strategy manager in an NHS Trust and service transformation lead in an Integrated Care System.
Qualifications
General Management trainees work towards a Postgraduate Diploma in Healthcare Leadership, awarded by the University of Birmingham. You will also participate in experiential and action learning, to develop leadership skills using real-world scenarios.
Teaching is delivered during working hours, but trainees can expect to complete coursework and revision in their own time.
Career path
General Management trainees have gone on to succeed in leadership roles across the NHS. Recent alumni roles include: Outpatient Deputy General Manager, Clinical Services Support Manager, Strategy & Partnership Manager and Delivery & Service Improvement Manager.
Entry
Any degree, 2:2 and above
Salary
£27,701 + benefits
We're looking for leadership potential. To help you achieve yours, every trainee is supported by a:
• Programme manager to support your progress through the scheme
• Support manager to provide pastoral support for the duration of the scheme
• Placement manager on each placement
• Buddy – usually a trainee from the previous cohort
• Local NHS Leadership and Lifelong Learning network – host local events and manage alumni networks
• Trainee Experience Support Group – advocate for trainees within the NHS
General Management FAQs
Is there an opportunity to turn the Postgraduate Diploma in Healthcare Leadership into a full Masters?

All trainees complete the fully funded Diploma.

After you've graduated from GMTS, you may decide to work towards a Masters in Healthcare Leadership. The Masters qualification will not be funded by GMTS – alumni are responsible for securing their own funding. You'll need to work directly with the education provider to progress your studies to Masters level.
Can I apply for the General Management specialism if I am studying for or have completed the NHS Elizabeth Garrett Anderson Healthcare Leadership programme?

No. However, we encourage you to apply to join another specialism.