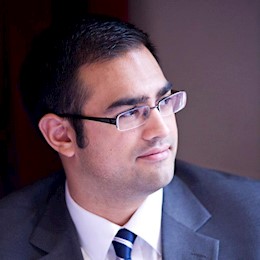 Human Resources Scheme
People Business Manager
What programme were you on when you joined the GMTS and when did you leave?
I was on the HR scheme, and finished in 2009.
What has been your career journey progression with the NHS?
I am currently working as a People Business Manager for Epsom and St Helier University Hospitals NHS Trust in South-West London. I work in Human Resources but am aligned with two Directorates with my primary focus on identifying the people dimension of delivering on the Directorates' objectives, and providing advice and guidance on implementing best practice in people management.
Prior to this I worked in as both an HR Advisor and Senior HR Advisor at Sherwood Forest Hospitals NHS Foundation Trust. Working here gave me an excellent grounding in operational HR after I left the scheme and stood me in good stead for my current role.
What advice would you give to someone thinking about joining the scheme?
If you are serious about joining the scheme you need to do your research. It's such a competitive scheme that it is vitally important that you find out as much as you can about it as well as the wider NHS and the challenges it faces. Also, it was important for me that my values were closely aligned to those of the scheme and the NHS.
Obtaining a place on the scheme is only the beginning. It takes hard work and dedication to balance both working full time and the educational commitments. However, it is incredibly rewarding and you will meet some fantastic people during your journey both on the scheme and in your placements.
What has been your defining moment so far working for the NHS?
Working in Human Resources, you don't always get to see firsthand the hard work and dedication of frontline NHS staff and the care that they provide every single day. However, a lot of what you do impacts directly on them, and in turn patients. It's really important for me to never lose sight of that when I'm dealing with employee relations, workforce planning/resourcing and organisational change.
One of my defining moments as an NHS employee and HR professional was when I was the workforce lead on the removal of joint surgery away from a community hospital and relocating it to a district general hospital, following a directive from the Care Quality Commission.
Critically it meant that 15 ward based staff from a total of 30 would no longer be required to undertake their current work. During this difficult time for staff their primary concern was always for their patients and how they would be cared for at the district general hospital.
Working in partnership with the affected staff, the community hospital's General Manager, the Ward Manager and Trade Union Representatives we were able to make the necessary changes and redeploy staff into alternative posts with no redundancies.