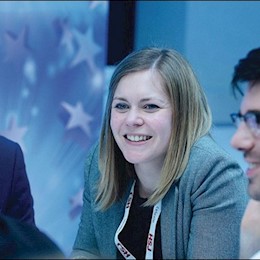 General Management Scheme
Directorate Manager for General Surgery and Urology
Quote / Testimonial:
Applying for the Graduate management training scheme was quite simply one of the best decisions I've ever made.
What programme were you on when you joined the GMTS and when did you leave?
I joined the Graduate Management Training scheme in 2012 and was on the General Management programme.
What has been your career journey progression with the NHS?
My NHS career journey started before I got a place on the NHS Graduate Management Scheme. I trained as a biomedical scientist and worked in a clinical laboratory in the NHS in immunology for a year. During my last year of university I worked as a nursing assistant part time for around 18 months. Having both of these experiences gave me a really valuable approach when I started the training scheme. My first placement was an operational manager in the oncology and haematology department at University Hospitals Bristol, where you get to understand the 'nitty gritty' of operational management in the NHS. My flexi-placement was more research focused within a public health team and one of my proudest achievements was when my first article was published in a Public Health journal. My final placement was in a CCG, working on pathway redesign and project management.
When I finished the scheme I had to think really carefully about where my passions lay and what my next career move would be. I am currently working as Directorate Manager for Oncology, Haematology and Medical Physics at the University Hospital of North Midlands. This choice was two-fold – I had always been passionate about cancer services, and throughout the training scheme and before this had been a theme running through my career. Secondly, UHNM was just about to start the process of working with the Trust Special Authority on the dissolution of Mid Staffs and the integration of Stafford Hospital into the trust, a process which had never been undertaken before. With such a major change to an organisation, I knew there would be many different challenges and opportunities to expand and develop services that I may not have had the opportunity to undertake in many other trusts.
I don't have a 'grand plan' when it comes to my career path, at the moment I am just enjoying learning how to be effective at my job, and finding new challenges to keep me interested!
What advice would you give to someone thinking about joining the scheme?
Applying for the Graduate Management Training Scheme was quite simply one of the best decisions I have ever made. I had never thought about being an NHS manager and didn't even know what they did (I originally wanted to be a doctor!) but through the course of the year doing the application, going to the interview and doing the assessment centre I found myself completely sold.
My advice to someone thinking of joining the scheme would be this- really try and understand what motivates you to work hard. If it is that you are motivated by the positive impact you can have on others then the scheme will be perfect for you and quite quickly you will be able to see the effect your contribution can have on patients.
My advice for someone just about to start the scheme is this – the graduate scheme isn't there to hold your hand through the next two years, you get out of it whatever you put into it. If you are tenacious enough, determined enough and passionate enough, go for it! Ask to do things rather than wait for things to be offered to you. Take every opportunity you have. Learn hard, work hard and make lifelong friends.
What has been your defining moment so far working for the NHS?
I've found that it is the little things that have the biggest impact. I'm always amazed by the extra mile staff in the NHS go to for their patients- whether it is the consultant who is at work until midnight to get a patient through the night to go to his daughter's wedding, the dementia nurse who trains Tesco's staff on being dementia friendly, or the nurse that brings his guitar into work to sing to a sick child. The NHS isn't just an organisation; it is a network of some unbelievably fantastic, dedicated and passionate people. Every time I meet one of them it humbles me and makes me want to be better, work harder and achieve a fraction of the impact that they have on others.